AI-Enhanced Modern Medical Practice Software
Track, manage, and optimize financial and administrative processes with user-friendly practice performance solutions and smart productivity tools designed to streamline administrative workloads and deliver real-time operational, financial, and clinical reports for more effective decision-making.
Hospital-Based and Office-Based PM Features
What is Practice IQ?
Data efficiency is one of the highest value resources both a practice and provider can have.
Practice IQ is a proprietary system of real-time smart reporting features, KPI tracking, financial bench-marking, revenue efficiency, and data analysis tools.
According to a survey of over 100 of the top healthcare organizations in America, 84% identified better access to physician analytics as a top priority yet less than 13% of practices have any active measures to gather or improve provider analytics.
Furthermore, a recent case study identified overwhelming information and analytics failures in 98% of the active practice management software options on the market.
One of the highest value resources a practice has for financial growth and improvement is the access to provider level analytics and actionable intelligence.
Practice IQ offers real-time info on both the provider and practice level that enable a higher level of effective decision-making by providers, practice managers, and owners.
What Differentiates Claimocity Mobile Charge Capture?
Faster charge capture with fewer missing claims, quicker results, and higher benchmarks and financial metrics.
Claimocity offers a next gen mobile charge capture solution that uses AI-enhanced acceleration and a hyper-productive user friendly design to speed up the billing workflow process and capture claims with higher accuracy in a faction of the time.
Our pattern analysis software improves the accuracy and efficiency of the quick access selections over time, steadily and systematically aligning and improving the process according to your needs, specialty, historical data, and encounters.
On the provider side, the ease of capture reduces initial encounters to 15 seconds of total billing and follow up charges to under one sec per patient on average while generating the highest level of benchmarking and metrics in the industry.
What Makes Our Claim Tracker Different?
Lifting the veil between the medical practice and the insurance process with an unprecedented level of transparency into the billing process.
Claimocity revolutionary claim tracker provides real-time updates on what every claim is worth and when it will be paid from the point of care to the final approval.
Track initial claim estimates based on coding, then updates as insurance and billing demographics become available, factoring in patient responsibilities, and finally providing final settled amounts.
Comparing final results against contracted rates and maximum possible compensation amounts enables an unprecedented level of rating on insurance carriers.
One of the highest value resources a practice has for financial growth and improvement is the access to provider level analytics and actionable intelligence.
Practice IQ offers real-time info on both the provider and practice level that enable a higher level of effective decision-making by providers, practice managers, and owners.
How Does Code Assist Work?
Code assist is a premium coding feature designed to save time and increase coding efficiency levels by enabling doctors to automate the coding process:
For complex encounters
When running behind on busy days
Or simply as an available convenience
Just toggle the code assist on any given visit and snap a quick picture of whatever paperwork or data is available… then move on to the next encounter.
This allows doctors to save time, streamline the coding process, reduce under coding (and the associated revenue loss), reduce over coding (and the associated legal and financial audit risks), and focus on the quality of care instead of the administrative billing process.
Fast Efficient Contracting & Credentialing
At every stage, we have experts with decades of experience able to streamline your practice management process, and this includes full-service comprehensive contracting and credentialing.
Credentialing, or primary source verification, is an intensive process that requires an intense allocation of time and resources.
Once an applicant successfully moves through the credentialing process, a provider is moved into the contracting phase of qualifying for receiving insurance reimbursements for payer-based services that fall under the in-network provider status of medical care.
Just let our team know what you need and the administrative busy work will be handled for you so your team can focus on managing the practice, providing the highest quality of care, and evaluating the actionable data for opportunities to increase efficiency and drive financial growth.
In-App Compensation Management
Take the hassle out of the monthly payment process for both providers and practice managers/owners.
Set, manage, and pay providers based on RVUs and rules engine structures (simple or complex) based on individual contracts.
On a provider-level, physicians can follow their monthly earnings on a daily basis and at the end of the pay period they can review and approve the payment details based on the rules of their compensation package.
Managers and/or practice owners have access to the complete finances and approve the issuance of the payment amounts that automatically generate based on the contracted compensation rules.
Additionally, the practice can also pay Claimocity for PM and RCM services in the app and track financial records and invoice history with quick access features.
Concierge-Level Support
The tools, technology, and team to take your practice to the next level with top tier time, revenue, and data efficiency enhancements.
The Claimocity software and RCM services are backed by the most robust billing and software support team in the industry with around the clock concierge-level support.
Our team is the best in the business.
With decades of specialist experience and access to the largest accumulation of medical big data processing, the Claimocity billing, coding, and software teams provide hands-on timely support as if a digital billing scribe and medical assistant following the providers through their day.
The team is able to generate the highest bench-marking metrics by running constant QA/QC measures, proactively identifying and troubleshooting coding or billing errors, providing timely notifications to the providers of missing information or issues, catching missed or lost claims, fixing A/R stuck points, streamlining the clean claim percentages, driving the highest levels of bottom line revenue, and providing 24/7 hands-on assistance for providers and practice managers.
Secure HIPAA Compliant Communications
The value of compliant communications cannot be under stated when it comes to streamlining the clinician coverage and workflow process and drive the highest levels of information efficiency.
Claimocity uses the highest levels of secure encryption to enable provider to provider and practice-level communications that not only meet but exceed HIPAA compliance standards for digital medical information sharing.
In addition to in-app notifications and high-level messaging functionality, the software provides a visually pleasing and user-friendly communication portal that enables physicians to assist each other with coverage, inquire about encounters, provide insights, reply to management requests, share confidential medical information, and discuss patient details as needed to improve the quality of care and streamline the patient coverage process.
Patient Demographics Scanning
Inputting or updating patient demographics, billing information, and medical data has never been easier with the Claimocity app, which enables a provider to quickly and easily scan the patient wristband barcode or the barcode on the patient file.
Just open the app and scan the barcode. It takes 2-3 seconds in total and can save several minutes of data entry and patient inputting.
If the patient has already been discharged, accessing the patient file can provide access to critical data for claims processing and troubleshooting errors, mistakes, and any issues or discrepancies with patient billing demographics that need to be resolved. 
Save Time & Boost the Bottom Line
► Streamline day to day operations and reduce provider workloads.
► Track and maximize management KPIs to operate at peak levels.
► Industry-leading benchmarks in time, information, and revenue efficiency.
► Smart automation means more work done for you – not by you.
► Custom solutions for office-based and hospital-based practices.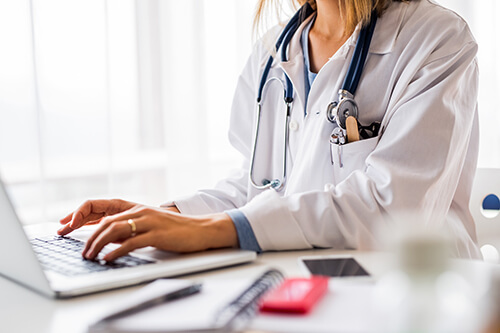 What Features Should Be Included in Medical Practice Management Software?
Comprehensive medical practice management software is designed to handle all the administrative functions of a physician practice, and Claimocity integrates all of this into an easy to use mobile application that you can effectively manage from your mobile phone. But while mobile smart technology is an effective tool for doctors on the go, we built our hospitalist practice management software to easily transition across platforms and devices.
This means you can move from your smartphone to tablet, laptop, or desktop computer with an effortless flow and no loss of data, allowing you to work from any device and smoothly move to any other device using our cohesive online portal that keeps all of your information safe and secure while enabling a level of portability and flexibility you simply will not find anywhere else. Read More...
While many practice management software features only focus on the aspects of the daily operations and require the addition of separate medical scheduling software, medical billing software, and electronic medical records software options in order to provide the full functionality necessary for true practice management, Claimocity integrates all of these into a single standalone smart software.
Best of all, we do each of these functions better than any stand-alone product, offering world-class full-cycle billing for hospitalists, integrating the first-ever smart census for patient scheduling and daily inpatient census needs at the hospital, and maintaining EMR patient records to help automate the clinical side of a medical practice to enable reference to patient allergies, medical history, immunizations, charts, prescriptions, and diagnosis notes.
The federal government mandates that every medical facility adopt an EMR but not all EMRs and medical practice management software solutions integrate well together. The same is true for scheduling solutions and medical billing solutions. Claimocity eliminates this issue by providing the full package in a fully integrated smart software bundle to handle operations, scheduling, billing, and medical records while providing AI-enhanced functionality to enhance efficiency, save time and effort, and boost revenue.
The true focus of good physician PM software is to improve workflow and reduce administrative burdens so that the Hospitalist can spend more time on the medicine, with the patients, or on making improvements to their practice.
The level of functionality included in the features has a substantial influence on how successful it is going to be at assisting with common medical admin and billing submissions time needs.
Full Cycle Billing: The value of integrating billing functionalities into your MPM (medical practice management) cannot be emphasized enough. For example, Claimocity integrates full-service end to end billing with a support staff of billing experts but also provides an accelerated mobile capture tool that decreases the number of missing or erroneous charges while speeding up the time it takes for billing – both saving time and increasing monetary value. These tools are win-win.
Efficient Scheduling: Traditional calendars, excel sheets, or even mobile calendar apps all have issues relating to human error, portability, security, and potential for data loss. Most practices either outsource this need or use external software to better organize their appointment scheduling and patient management needs.  But as mentioned above, there are often integration issues with other necessary components, and it requires paying significant sums that add up and impact bottom-line revenue growth. Claimocity integrates scheduling directly in the practice management aspect and takes it to the next level with advanced software enhancements that create smart census functionalities no other MPM or scheduling software offers.
Patient Demographics and Registration: New patients need to be inputted into the system for billing and verification. Their demographics, vital personal info, and other relevant categories such as insurance information typically need to be filled out on paper and then scanned, faxed, or shared, creating chains of custody with the potential for lost info and human error along the way. Not to mention this is a significant time burden on the physician. Claimocity offers two solutions that save bundles of time and effort to solve this issue including a barcode scanner so that the hospitalist can simply use the app to scan the patient wristband or chart and auto-populate all the necessary information directly from the hospital to the EMR and back-end billing system, not to mention add the patient to the PM for easy scheduling, charge capture, and processing claims. If the physician prefers a different route, Claimocity also offers facesheet integration, allowing the hospitalist to simply take a picture of the patient's facesheet and submit it. The Claimocity team takes it from there and does all the grunt work of filling out the required fields so that the doctor doesn't have to.
Managing the Claim Cycle: From the point of care to the final approval or denial, claims run through a rigorous process of time constraints, burdens of proof, administrative hurdles, and bureaucratic elements designed to increase the claim denial rate by making it a difficult process for doctors. The insurance companies have a financial incentive to create an inefficient system because any claims they do not pay add to their profit margins. So effective billing is not only about coding with integrity and effective patient care, but proactively identifying and resolving issues, generating clean claims that are approved the first time through, accelerated time management to avoid deadlines, and being supported by an experienced billing staff capable of handling the full array of claims through the full array of stages. Claimocity uses a proprietary rules engine to identify and reduce mistakes and issues at the point of care, pattern analysis software to improve billing over time, artificial intelligence to process data and compare it against statistical models and historical data for higher effectiveness, and a hands-on team of full support billing experts who meticulously manage your practice's billing to ensure the highest levels of compliance, coding, performance metrics, and bottom-line revenue generation.
Reporting and Evaluative Management: From generating best practices, to payroll filters, to goal setting and KPI evaluation measures, good physician practice management software options should include features that focus on reporting and related functionalities to track practice-wide activities, set performance goals, measure productivity, provide analytics, and generate reports. Many software options offer mediocre options when it comes to this central reporting feature but Claimocity believes that reporting is key to improving and understanding physician performance in measurable and valuable ways is key to reporting. That's why Claimocity has taken these central evaluative reporting functions to the next level by offering an easy to access and understand layout full of critical information that enables a higher degree of available options like smart reports, practice filters, big data analytics processed down into key insights, and comparative evaluations against state and national averages within the specialty.
Other features that should not be overlooked include:
Contracting and credentialing. Not many MPM options include this but Claimocity feels that it is an essential component to practice management and our PM software includes experts who handle the contracting and credentialing needs of the practice so that the group can focus on the patients, the medicine, and the group.
Mobile Access. This is considered a peripheral feature by most PM software options as they consider the desktop portal the primary feature. But here at Claimocity, we believe that the future of medicine is mobile, and this is even more of a critical component for hospitalists who spend part or all their time seeing patients in a hospital setting. Our software is mobile-centric with effortless transitions to tablet and desktop. This way you get everything at your fingertips and when you have access to a laptop, desktop, or tablet, your practice management features just slip smoothly onto that device with no loss of data or effort.
Coding. This feature is often overlooked as billing companies are willing to provide a better than average revenue cycle and make claims about greatness. The reality is that coding is a critical component, not just to ensure claim viability, but optimize claim integrity by eliminating the revenue loss from coding under industry standards while eliminating the very real risk of audit and substantial financial and legal penalties handed down from patterns of coding over acceptable levels in order to pad income. Claimocity integrates a coding optimizer tool that is built around artificial intelligence big data processing and is able to compare the situational data and diagnosis against huge volumes of industry and historical data before running it through a proprietary statistical modeling battery in order to ensure that you are maximizing your revenue value on the claim, eliminating denial risk, ensuring that the diagnosis code lines up with the highest value the specific insurance in question is willing to pay, and evaluating the claim and supporting information against every stage of the claim cycle. All of this happens instantaneously and provides helpful insights and feedback at the point of care or claim submission so that you can adjust with integrity.
RVU Calculations and Comparisons: Not many software features focus on RVUs, which stand for reality value units, and are able to showcase real-world Medicare reimbursement data in a useful and comparative manner. Comprised of three components including physician work, practice expense, and professional liability expense, summary RVUs factor in geographic adjustments and runs the numbers through a formula that converts these numbers into dollar amount totals. At Claimocity, we believe in full transparency and our business model is built around lifting the veil between the insurance company billing system and the physician for better understanding and revenue generation. Providing RVUs is a key aspect of our software functions and we make it easy to access the RVU and the corresponding monetary value associated.