Accelerate Your Credentialing and Maximize Your Contracted Rates
Improve Efficiency at Every Stage
Faster End to End Provider Verification
Higher Negotiated Contract Rates
Get Providers Seeing Patients Faster
Ensure In-Network Reimbursement
Ensure Seamless Re-Credentialing
Drive ROI with Fast Focused Services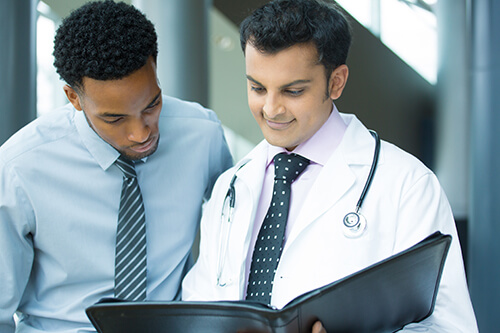 Frequently Asked Credentialing Questions
What Is Medical Provider Credentialing for Healthcare Compliance?
Medical provider credentialing in healthcare, also commonly referred to as physician or doctor credentialing, or even more generally as medical credentialing, is the process by which medical practices and healthcare organizations verify the professional and medical credentials of healthcare providers to check the validity and accuracy of licenses and professional certifications.
Typically, the process is most known for credentialing physicians, but similar processes are used to verify nurses and other healthcare providers as well.
Who Requires Provider Credentialing?
Healthcare provider credentialing is a complex and critical part of medical practice operations. Many companies offer contracting and credentialing services but fall short of award-winning results. The simple fact is that physicians and other healthcare providers need proper credentialing through a proven process that verifies education, training, background, skills, and other key qualifications required to properly care for patients and perform encounters. Their livelihood and the viability of the medical practice that employs them depends on these background administrative services to come through in a timely, affordable, and accurate manner.
In addition to needing these services for the medical practice employing them, physicians have to have their credentials and services monitored and evaluated over time by independent third-party organizations to ensure that they are not providing improper care.
Both the healthcare organizations that employ the providers and those that provide the oversight necessary for healthcare insurance companies to provide approved provider lists for insurance companies require a level of high-grade monitoring, reporting, and information checking that makes up the bulk of the provider credentialing and contracting services provides by the Claimocity team.
What is the Credentialing Workload?
The workload that goes into proper provider credentialing is not only bureaucratically complicated and often lengthy, but requires a level of nuanced experience and expertise that can have financial, legal, and operational impacts as any hiccups or issues in the process can cause problematic delays in a providers ability to provide healthcare to patients not to mention generate significant additional costs and legal ramifications for both the provider and medical practice employing the provider.
Healthcare provider credentialing involves many parties and moving parts. Doctors and other healthcare providers — all need to prove they have the education, training, and skills required to properly care for patients. At the same time, healthcare oversight organizations monitor the work of medical providers to evaluate, among other matters, reports of improper care. All of this reporting and monitoring must be continually checked, both by healthcare facilities that employ providers and by health insurance companies that issue approved provider lists.
Certainly, the healthcare provider credentialing process requires significant work. To help clear the confusion, this article details the basics of provider credentialing and offers recommendations on fulfilling the responsibilities as efficiently and effectively as possible.
What is Insurance Credentialing?
Insurance credentialing is the process of verifying a physician's credentials and professional skills for a health insurance company, commonly referred to as getting on the insurance panels. In order to include a new physician on an in-network provider list, the insurance company has to perform what amounts to a professional background check to ensure that the doctor is qualified and does not have any issues that would preclude them from participating in the payer reimbursement system as an in-network provider.
Other types of relevant credentialing to note are paperless credentialing, which simply refers to the use of electronic or digital software as a replacement for paper forms in order to streamline and expedite the process, and nearly all credentialing and contracting services should be paperless at this point.
Why Bother with Provider Credentials?
Other than wanting to get paid by insurance companies, there is a definite industry need to have some means of oversight on physicians joining organizations and practices to ensure that they are competent and qualified to perform complex and often life changing medical work on patients.
To ensure that there is some systematic level of accountability and compliance to standards, the CMS, which stands for the Centers for Medicare & Medicaid Services, and Joint Commission on Accreditation of Healthcare Organizations both have strict guidelines for the process and require providers to be credentialed and follow their regulations in order for the organization they are affiliated with to be eligible for Medicare or Medicaid reimbursements.
Beyond the CMS and Joint Commission accreditation, there are additional standards that can be applicable and followed to increase the level of compliance including those by the NCQA, AAAHC, and URAC to name a few.
How Does Provider Credentialing Work?
The actual process is very thorough and administratively driven, with thorough follow through and contact with various schools, boards, organizations, and relevant companies and entities to ensure the validity and accuracy of all the provider's relevant qualifications. There is also a component of a more broad-spectrum analysis of background and issue checks to ensure that there are no red flags that need to be resolved or would indicate issues with competently representing the healthcare organization and treating patients.
The first step is gathering all the relevant information from the provider. When a third party is hired to gather and verify the information, they are often referred to as a CVO or credentials verification organization, and they work with the provider to provide timely and accurate results for the healthcare organization.
The second step is checking everything provided through direct correspondences, software and database searches, verification checks, and other means of acquiring the information necessary to make a thorough decision including finding and ruling in or out any information that could raise questions about whether to credential or reissue credentials for a provider.
The third step is the completion of the process and involves both the healthcare organization employing the provider and the insurance companies listing the provider in their network then awarding the provider with the necessary credentials to see patients, perform their professional duties, and submit for reimbursement at contracted rates within the network.
How Long Does the Credentialing Process Take?
The financial, medical, and legal implications combined with the thoroughness of the process and partial dependence upon slow insurance bureaucracies and relevant entity response times means that the credentialing process can take a long time to complete, commonly ranging from 30-90 days.
Common bottlenecks that can lengthen the process include specific state regulations, graduation confirmation for recent graduates, malpractice suits, red flag issues, and information availability limitations.  
The downside of a lengthy provider credentialing process is the significant financial impact that comes from the inability to see patients while waiting for approval. The faster and more efficiently an organization or CVO can generate provider credentialing the better for both the provider and the medical practice hiring him or her.
Not only does the provider lose critical revenue opportunities the longer the process takes but the average loss for a hospital or medical practice is 7k for every day a physician isn't working. The difference between a 30-day process and a credentialing process that drags out for 3 or 6 months equates to hundreds of thousands of dollars in lost potential.
What is Insurance Contracting?
Once the credentialing is complete and the insurance company awards the verification, the insurance company will then extend a contract to the provider for reimbursement participation. Contracting is the process of negotiating and eventually agreeing on the approved rate offered by the insurance to be in network, making a provider an approved participant.
How Does Contracting Work?
Once the payer provides a contract to the provider, either the provider, the healthcare organization, or the CVO has to carefully review the details of the offered contract to evaluate the legal language, rates, details, and obligations.
If the offered reimbursement rates are less than expected or desired, then the negotiation process begins.
CVOs have a distinct advantage in these negotiations as they have greater bargaining authority, the ability to evaluate a contracted rate, and the experienced legal team specialized in negotiating the highest contracted rates in the quickest amount of time.
Once the contract is accepted by both parties it is signed and the provider will receive an effective date and provider number, enabling the doctor to begin billing the plan and receiving in-network reimbursements.
How Long Does Contracting Take?
Though contracting can be as unpredictable as credentialing, it is often less complex and not as time consuming. Plus, until the contracting is signed, a provider can still bill out of network.
Save time and money with credentialing experts who have decades of successful experience. The provider enrollment and insurance contracting process can be daunting and frustrating for offices and facilities to complete in a timely and efficient manner in dynamically changing legal environments where even small mistakes can create financial and legal repercussions that cost thousands and generate weeks of delays.
What About Re-Credentialing and Other Key Questions
What Advantages Does a CVO Have?
Companies that provide professional credentialing services have several distinct advantages that comes from experience and a nuanced understanding of the back end of the process.
They know how to gather all the key information up front, including asking the right secondary and follow up questions based on the initial foundational responses.
CVOs know the specific requirements by state and insurance company and have the resources to gather entity and automated responses at a significantly higher speed.
They also have the established relationships with insurance representatives, licensing agents, and relevant organizational contacts, as well as the knowledgeable persistence to move the process along more efficiently by proactively identifying gaps and bottlenecks as they arise then making the changes necessary to resolve them before they create significant delays.  
Unless a healthcare organization has an experienced credentialing staff in house, the ROI of using a CVO is relatively large, and the better the credentialing service they use in terms of speed, accuracy, and efficiency, the higher the return.
Provider Re-Credentialing
Provider credentialing also includes the reissuing of credentials for a provider.
This a key service for many organizations. If a provider has already been credentialed, a CVO can provide ongoing monitoring and re-credentialing services for all the providers on staff, continuously checking licensing and other information as it becomes available, re-running verification processes, monitoring notable medical incidents and malpractice claims, and using tracking platforms to monitor expiration timelines in order to ensure that all the organization's providers stay credentialed to avoid gaps in their ability to work for an organization and see patients.
Healthcare providers usually need to be re-credentialed every three years though some healthcare facilities and insurance companies require the process to be completed more often.
The Provider Role in the Credentialing Process
The provider plays two key roles.
The first is providing all the relevant foundational information necessary to check credentials.
The second is reviewing all the information about them in the credentialing process in order to determine whether they want to formally offer any corrections to red flags or errors in the results of the information gathering.  
What is Primary Source Verification?
This is the requirement that healthcare organizations check directly with the agency or source of the credentials and licenses to ensure that the provider has everything in good standing. This ensures that the information comes directly from the source rather than a third hand party.
What is the Credentialing Process for Physician Assistants and Nurse Practitioners?
The process is essentially the same though the information being verified as well as the required credentials and certificates vary by provider type.
What is Privileging and How Does it Differ from Credentialing?
Privileging is a more specialized form of credentialing that enables a provider to get authorization from the organization to perform specific procedures and/or practice specialty medicine based on his or her medical background and skills such as performing a specific type of surgery, referred to as a privilege. Privileging is often part of the credentialing process for hospitals and other facilities.
Take Advantage of Simple Efficient Credentialing Services
The right services make a significant difference in healthcare organization processes and revenue flow while ensuring that providers meet strict qualification standards and competency evaluations. The Claimocity team takes an immense amount of pride in their credentialing and contracting services as they have decades of experience and an award-winning process that enables them to get providers seeing patients and collecting reimbursements in the fastest amount of time with an unrivaled level of accuracy due in part to our rotating teams that are able to stay in constant contact with relevant parties, pushing through red tape, obstacles, and delays in an experienced and highly efficient manner that is part art and part science.