Hospitalist Software for Efficient Hospitalist Rounding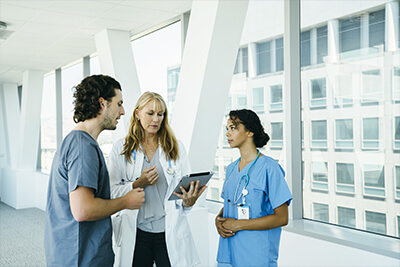 Efficiency-Driven Practice Performance Tools
Manage your medical practice on the go with AI-enhanced PM software
Drive higher revenue efficiency with accelerated mobile charge capture
Enable more effective data-driven decisions with financial and operational business intelligence and Practice IQ reporting
Save 5-15 hours per week with streamlined workflow functionalities that reduce the administrative burdens of billing and patient management
Empower machine learning and pattern analysis efficiency to generate higher productivity in less time so doctors can focus on the quality of care
Fast and Focused Hospitalist Rounding Software

Our PM software focuses on helping optimize your workflow by streamlining billing and practice management functions, putting what you need at your fingertips and increasing efficiency at every turn so you have more time in the day.
While the RCM functionality is handling the billing side of the practice to ensure you are getting paid what you have earned, the PM side understands the opportunity cost of lost time, effort, and energy, which we translate into financial opportunities.
Handling the full breadth of the group is as easy as handling your own daily workflow, with an array of Practice IQ reporting features, goal setting options, smart filters, interconnected scheduling, facility management, and custom managed payment scales.
Hospitalist Software is Critical to Success
A streamlined workflow is arguably the most critical piece for increasing revenue. The opportunity cost of lost time is revenue, so when you are losing time and losing revenue you are doubly losing. Conversely, and what makes your medical practice management software or app so critical, is that when you are improving both your existing revenue and your workflow time costs, you are gaining time that can either be turned into new patient visits which increases revenue, better patient care which increases quality score benchmarks, or high-quality free time allowing your battery to recharge often resulting in indirect increases in workflow efficiency.
For the private practice hospitalist, having a mobile pm software solution is incredibly vital as the majority of their time will be spent out of the office and in the hospital setting, requiring an app or online portal solution for point of care data entry, EHR, billing, and administrative functions.
Claimocity is designed to be your practice's central command station, offering everything you need within a few clicks right from the smartphone you carry anyways. Within seconds you can access financials, make adjustments to patient scheduling, enter charge capture at the point of care, communicate securely with other physicians in the group, coordinate coverage, receive payments, track claims, and so much more.
Efficient Hospital Rounding
Efficiency, accuracy, and productivity are three vital cogs in both the revenue cycle maximization wheel and the practice management clock gears, pushing things forward in steady intervals that generate momentum and consistent results.
The proper medical practice management not only enhances your workflow efficiency but accuracy as well so that you are doing more in less time with fewer errors. When these tools are also combined with productivity increases through further time-saving features or automation that is able to do the bulk of the tedious administrative or billing work in a high functioning low error manner, then you the gains to your practice go from simple addition to exponential growth, helping your practice achieve record leaps in the short term and relentless month over month and year over year financial growth in the long term.
The problem with a lot of the medical practice management software systems in the industry is that they do one or two things well but then there is a steep drop-off in efficiency, accuracy, and productivity with the rest of their offerings. This is a consistent theme across all SAAS (software as a service) industries where the app or online portal or code is able to drive strong results in one field but only at the cost of others. This makes selecting the right medical practice management software a tricky venture as you have to essentially prioritize your highest need or two and then settle for mediocre results across the board below those.
Claimocity is unique in that they spent years perfecting all their tools before they launched, allowing them to not just provide strong results in or two fields but across the board in every field that a hospitalist needs to thrive, with absolutely unrivaled billing metrics, a smart census that saves time, faster and more accurate charge capture, amazingly secure communication abilities, functionally brilliant reporting with KPI analysis and easy to understand deep-dive data available at a glance just to name a few.