Advanced Data Driven Decision Making
►Practice IQ provides comprehensive evaluative reporting and measurement tools for tracking and reporting on benchmarks, KPIs, patterns, and real-world data for qualitative and quantitative evaluation.
►Practice IQ enables real-world practical measurements against industry averages on state and national levels including total encounters, RVUs, revenue per encounter, numbers, visits, claim data, actionable insights, and more.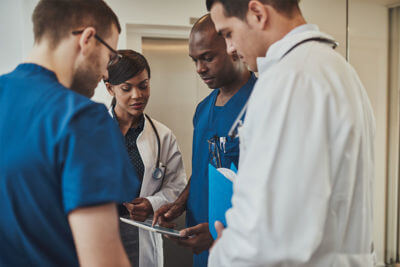 Practice Management Reporting Tools
PM reporting is a crucial source of business intelligence that helps group managers make confident informed decisions. But just as importantly, practice management reporting tools are high-value sources of information for the physicians within the group, enabling opportunities for growth, refinement, and improvement.
According to an independent 3rd party study of healthcare organizations, 74% have, or have a plan to implement better means of providing their physicians better access to performance metrics.
The correlation is that with better medical analytics and physician quality reporting, the doctors will be able to make structured changes and improvements that otherwise they would not be able to justify.
Key Medical Analytics for Hospitalists
Having data available in the form of relevant medical analytics, performance reports, quality comparisons, and real-world breakdowns is a critical component to improving performance and generating revenue growth.
A big part of improving is knowing what is working, but a bigger part is knowing what is not working. Providing physician analytics in an easy to access format that they can use to identify opportunities for improvement enables higher levels of efficiency and revenue optimization at a faster pace than otherwise possible.
According to MGMA, around 36% of surveyed healthcare organization leaders state that their physician's compensation plans are linked to physician quality reporting measures and performance metrics.
Claimocity not only understands the power of analytics but has built our software around big data analysis and the refinement of data into real-world conclusions that enable smart informed decision making.
Practice IQ reporting offers unprecedented access to hospitalist practice management reporting insights, physician analytics, comparative metrics, goals, KPIs, and more.
Physician Revenue Cycle Metrics with Practice IQ
Keeping a close eye on revenue cycle metrics is an important part of a hospitalist's paycheck maximization. But data is only as valuable as the accessibility and real-world application. Knowing a data set that cannot be changed or improved only provides a problem, not a solution.
Claimocity not only generates it's own strong metrics and performance standards but enables hospital physician groups to access individual revenue cycle metrics and the group medical analytics.