Hospitalist Census: The Inpatient Census for Doctors on the Go
Experience an AI-Enhanced and Integrated Central Census for Increased Organization and Efficiency
Smart Hub for PM & Billing Functions
A focal point for workflow productivity tools in the mobile app
Patient, facility, and inpatient scheduling in a fast focused format
Built in easy-swipe mobile charge capture coding and billing
Quick access to real-time Practice IQ financials and reporting
Advanced individual claim tracker data from the point of care
Quick-toggle automated coding assistance on complex encounters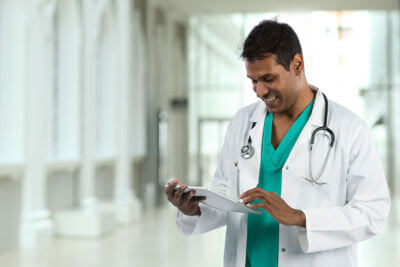 Smart Census: Integrated, AI/ML Supported, and Hospitalist Focused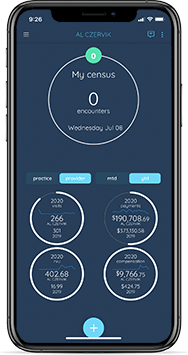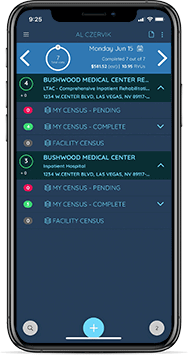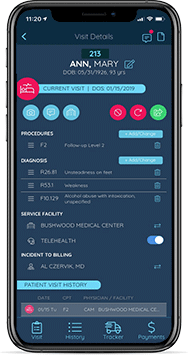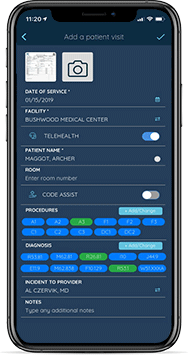 The smart integrated central census puts everything a rounding doctor needs at their fingertips, from inpatient scheduling and PM functionality to organization features designed for real-world daily needs and tasks.
The facility and EHR integrations allow for seamless dat a flow from the app to all the other connected systems. This means instant data transfer and real-time updates.
Rather than trying to fit clinicians who work on the go (hospital and facility-based doctors) into standard medical office software, we went a different route.
Claimocity designed a complete mobile software and service package around the specific needs of hospitalists, with none of the things they don't use or need (and shouldn't have to pay for).
Modern software is typically not modern at all, often clunky and unappealing looking with bugs and constant issues.
Our award-winning user experience models (UI/UX) makes the look and feel as high a priority as the efficiency and functionality.
We streamlined high-value functions with intuitive, user-tested, and user-friendly designs to enhance daily appeal.
The Inpatient Census: Patient Rounds Smart Software
Our time studies and efficiency models for the smart hospital census are already industry best and through the roof, but we never rest in our efforts to continue to improve upon our successes with even better feature arrays and efficiency-enhancing elements.
A doctor's time is incredibly valuable and always in short demand. When time constraints impact daily medicine, the quality of the patient care often suffers. Claimocity eliminates unnecessary admin burdens that take time away from the patient and the medicine.
An integrated inpatient census syncs data and enables you to move through the day with speed, organization, and efficiency. Document patients with user-friendly taps and swipes in seconds. Reduce what used to take hours to a mere handful of seconds so you can tackle your workload with a purpose.
Better volume without sacrificing quality. More possible encounters per day at the highest level of medicine by streamlining time usage scenarios. Our smart census helps open up maximum patient encounters per week by shortening the time spent on claim capture, progress ntoes, and other burdens.
Practice IQ Physician Analytics and Practice Reports
Advanced Metrics, Real Time Reporting, KPI Analytics, and Performance Solutions 
KPIs, Benchmarks, Insights, Analytics, & Metrics
Measure the Results that Matter
Actionable Data on Opportunities and Issues
Daily Revenue, Claims, RVUs, Revenue per Encounter, and More
Depth Reports or Quick-Glance Metrics in Real-Time
Practice Level and Provider Level Dashboards
Financial, Operational, and Clinical Reporting Tools
Benchmarking by Specialty, Region, Code, and More
Advanced Data Driven Decision Making
Practice IQ provides comprehensive evaluative reporting and measurement tools for tracking and reporting on benchmarks, KPIs, patterns, and real-world data for qualitative and quantitative evaluation.
Practice IQ enables real-world practical measurements against industry averages on state and national levels including total encounters, RVUs, revenue per encounter, numbers, visits, claim data, actionable insights, and more.
Medical Code Assist Tool: Full-Service Coding Made Easy
Save Time, Eliminate Under Coding Losses, and Reduce Audit Risks
As-Needed Premium Coding Services
Our data driven statistical modeling has identified key coding situations as the primary drivers for reduced coding efficiency.
Complex encounters and encounters coded while a provider is at their busiest have the highest probability of leading to either under coding or over coding.
Both reduce coding efficiency but under coding leads to lost revenue potential and over coding leads to serious legal and financial audit risks.
By providing physicians with an as-needed medical coding automation service, Claimocity not only systematically improves coding efficiency (with the associated revenue gain and audit risk reduction) but also enables providers to save time on busy days.
Just toggle the code assist feature on.
Then select any options that apply such as:
DX is listed on Face-sheet
Use DX from last known visit
Bill as listed on round-sheet
If applicable, take a picture of the face-sheet or any notes.
Our coding team will handle the rest.
Higher coding efficiency. More time and revenue. Less audit risk.
Secure Provider Communications with Encrypted Data Transfer
Effective Communication is Essential
A Secure Messaging Solution with HIPAA-Compliant Privacy Features
The Claimocity HIPAA compliant texting and messaging feature in our app enables you to communicate openly, effectively, and enjoyably with your group while maintaining rigorous electronic safeguards for protected health information.
HIPAA secure messaging replaces texts, emails, and other less secure forms of standard digital communication that are vulnerable to security issues.
Practice and Provider-Level Financial Control and Transparency


Streamlined Provider Compensation

Allows owners to set up simple or complex payment rules based on provider contracts that automatically track and generate income financials for approval.
Allows providers to track and follow their contracted earnings and rates across the pay period and review the income payments prior to issuance.
Allows managers to generate and review invoices as well as pay Claimocity for any services rendered within the app, as well as access historical usage and payment data on a practice, provider, or service level.
Quick and easy access for accountants and any authorized users who need access to financial payment records.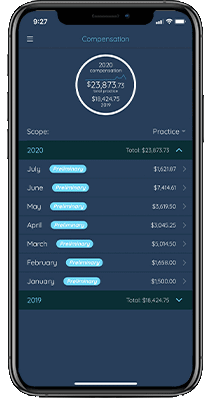 Manage the practice and providers from a simplified dashboard enabling real-time financial tracking, payment approval and processing, and compensation management based on the agreed upon contracted formulas.
Let your providers access and track their compensation data, enabling them to see their paycheck data as it accumulates in real time based on contract formulas and performance across the pay period.
Give limited ownership controls to the practice manager to enable routine functions such as cross-checking provider totals against RVUs and performance models, approve or deny payments, and resolve provider issues.
In-App Mobile Claim Tracker
Real-Time Billing Process Tracker with 100% Transparency
Claim Value Data for Providers & Practices
Claimocity provides unprecedented levels of transparency for providers and practice managers, lifting the veil between the doctor and the billing process.
Get an initial estimate of claim value as soon as a charge is captured.
Along with the monetary value, the smart software historical data processing enables the app to generate an estimated timeline of when the payment will be processing based on statistical averages and historical models to within 1% accuracy.
As the billing demographics updates within a day or two of charge capture, the initial estimate moves from phase 1 to phase 2, increasing the relevant accuracy of the claim value and timeline within the scope of patient responsibility, insurance company past payment values, and other relevant factors.
Claim Processing Timeline
The claim tracker is fast, user-friendly, and helps doctors quickly and easily learn over time what encounters are worth and when they will be paid for them.
This removes the confusion and obfuscation inherent in the insurance bureaucracy that keeps providers and practices from maximizing their earned revenue.
When the final payment is posted, doctors and managers are able to compare the payment against the contracted rates and start establishing relevant rating data about specific insurance providers, encounter context, and billing patterns that will assist in the decision-making process for both providers and managers.